Pride Month in Berlin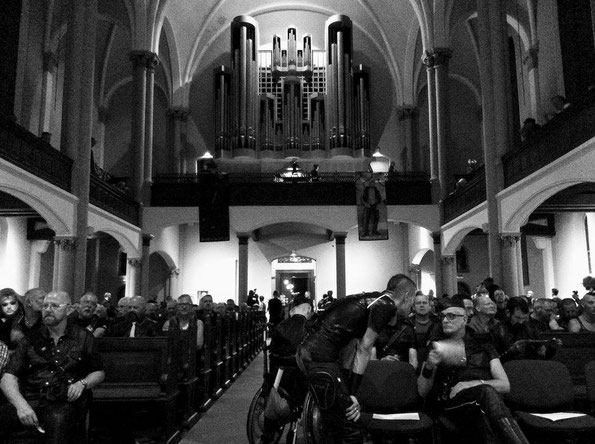 Pride Month Berlin
Once again, we've got some good news for you this month from the team at CLASSIC MEETS FETISH! You can also get tickets for the concert on 7 September 2017 at the Zwölf-Apostel-Kirche in Berlin-Schöneberg at two major Pride events in Berlin directly from us.
On the weekend of 15 & 16 July, from 2 – 6pm, you can find us at the stand of our sponsors "Easter Berlin" on Motzstrasse (between Kalckreuth- und Eisenacher Strasse) at the Gay & Lesbian Street Fest in Schöneberg. If you miss us there, you'll have another opportunity to purchase tickets at the CSD parade on 22 July, where we will be going through the city on the "Easter Berlin Fetish Float". We'll be glad to answer your questions at both events and you can get tickets in all categories against cash payment and without having to pay any fees for the online ticketing company. Tickets are also on sale at our sponsor, Mr. B Berlin, Motzstrasse 22, 10777 Berlin.
The Programme
We also have good news for the concert evening: we now have a programme! You'll be able to view it here within the next few days, after we've made some final touches. As you will see, we'll be taking you on a musical trip through the ages and you'll hear pieces by Johann Sebastian Bach, Ludwig van Beethoven, Frédéric Chopin and Antonio Vivaldi, but also some contemporary composers such as Ian Clarke from Ireland. Start looking forward to a diverse and exciting evening at the Zwölf-Apostel-Kirche!
Our programme is as international as our musicians, who come from the UK, Poland, Austria, France, New Zealand, the USA, and of course from Berlin. If you were there last year, you can again look forward to seeing Jack Parton, otherwise known in the international porn industry as Dirk Caber, as well as sexy Greg, hunky Ash and lovely Martin perform, just to name a few. For more details on the musicians, please visit our website.  
Wanted: You!
For the evening to run as smoothly as possible, we're already on the look-out for a few hot helpers to assist with admission at the door and as stewards. Not only will you be given a free ticket to the event, but we'll also give you a little something in return. Just send us a short mail to classic-meets-fetish@gmx.de for more information. 
As we have mentioned already, so that we can finally pay our musicians and helpers this year, we've had to moderately raise the ticket prices. But don't worry, CLASSIC MEETS FETISH will remain a charity event and we'll continue to support charitable organisations with the proceeds from the evening.
Tickets
If you're on a small budget but would still like to experience this unique event, you can purchase our bargain tickets for only EUR 18 in cash only at the Motzstraßenfest, CSD Berlin or at MrB Berlin. Of course, we also have tickets in other price categories: VIP tickets cost EUR 69 (incl. beverages and snacks) and there are also seats available for EUR 27, 39 and 49.
We'd all like to wish you loads of fun in this month of Berlin Pride and we are looking forward to welcoming you to CLASSIC MEETS FETISH on 7 September 2017at 8pm at the Zwölf-Apostel-ember 2017at 8pm at the f fun in this month of Berlin Pride and we are looking forward to welcoming you to  he anisation.Kirche, An der Apostelkirche 1,10783 Berlin.